Monday, November 21, 2022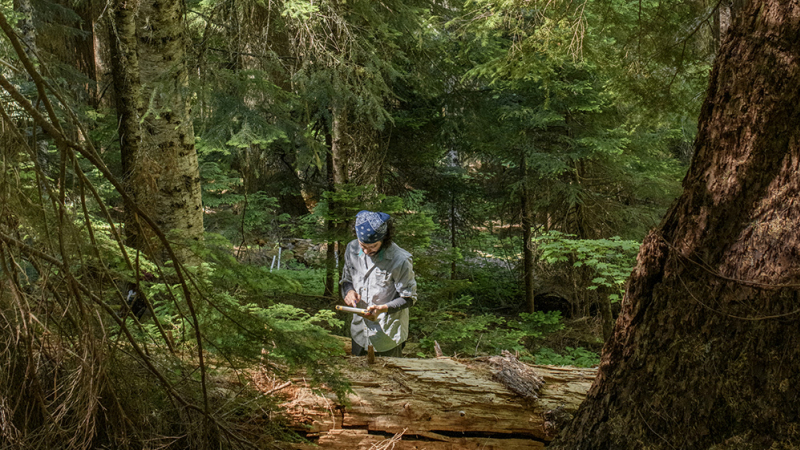 Photographer Nancy Floyd is using her 2022 Guggenheim Fellowship award to explore remote corners of the Andrews Forest with Marquette University ecology professor Joe Lamanna and his field crew and students. This art-science encounter is in early stages of development, but after weeks in the field together this summer, a theme of immersion seems to be taking shape – the literal immersion of everyone swimming in a sea of vegetation and the immersive attentiveness of artist and field ecologists pouring over a meter-square plot for hours or expanding a hectare-scale reference stands to many hectares.  
Nancy comments, "While the long days can be grueling, climbing over downed Douglas firs and through the impossible vine maples while battling bugs and sometimes heat and rain, what impressed me most was listening to them talk about the forest and their commitment to their work. To know that what they record today will be studied and then carried on in future studies gives me hope for our planet."  
BIO
Nancy Floyd is a visual artist whose interests include the aging female body, the passage of time, barren landscapes, and trees.   She uses photography, video, and mixed-media to address the ways in which lens-based media can connect deeply with experience and memory.
Floyd has received numerous grants and awards including a 2022 Guggenheim Fellowship to carry out an exploration of trees in Oregon and the 2019 International Center of Photography / GOST Books First Photo Book Award for her 39-year self-portrait series, Weathering Time.  Her work has been exhibited in numerous venues including The High Museum of Art (Atlanta, GA), The Museum of Contemporary Photography (Chicago, IL), Blue Sky Gallery (Portland, OR); CUE Art Foundation (New York, NY); and Blue Star Contemporary Art Museum (San Antonio, TX) and is in the collection of the Center for Creative Photography (Tucson, AZ), the High Museum of Art, Museum of Contemporary Photography, Lightwork (Syracuse, NY), and in numerous private collections. She lives in Bend, OR.