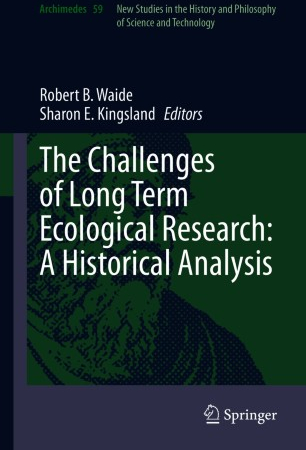 A new book documents the 40-year history of the US Long-Term Ecological Research program. The Challenges of Long-Term Ecological Research: A Historical Analysis edited by Bob Waide, a long-time LTER leader, and history of science scholar Sharon Kingsland, is part of Springer Publishing Company's series Archimedes: New Studies in the History and Philosophy of Science and Technology. 
Andrews Forest scientists and scholars past and present are authors of six of the 16 chapters. The kick-off chapter by Julia Jones and Michael Nelson describes and analyses the history of the National Science Foundation's expectations of LTER sites represented in Requests for Proposals in relation to the timing of site entry to the network and subsequent renewal, probations and termination. Lissy Goralnik, Michael Nelson, and Fred Swanson assist lead author Mary Beth Leigh (Bonanza Creek LTER) on a chapter on the emergence of arts and humanities at LTER sites. Swanson leads a chapter with co-authors from Harvard Forest and Hubbard Brook on how LTER sites had impacts on public policy: from forest conservation in the Pacific Northwest to air quality in New England.
Former Andrews Forest researchers contribute to three additional chapters: Jerry Franklin is a co-author of the origins and early development of LTER, Susan Stafford is sole author of the chapter on information management within LTER, which she pioneered at the network scale while at OSU, and Kristin Vanderbilt co-authors a chapter on International LTER.
As stated by the LTER Network, a major theme of the book "is the evolution of a new type of network science, involving comparative studies, innovation in information management, creation of socio-ecological frameworks, development of governance structures, and formation of an International Long Term Ecological Research Network with worldwide reach. The book's themes will interest historians, philosophers and social scientists interested in ecological and environmental sciences, as well as researchers across many disciplines who are involved in long-term ecological research."
https://lternet.edu/stories/new-book-the-challenges-of-long-term-ecological-research-a-historical-analysis/