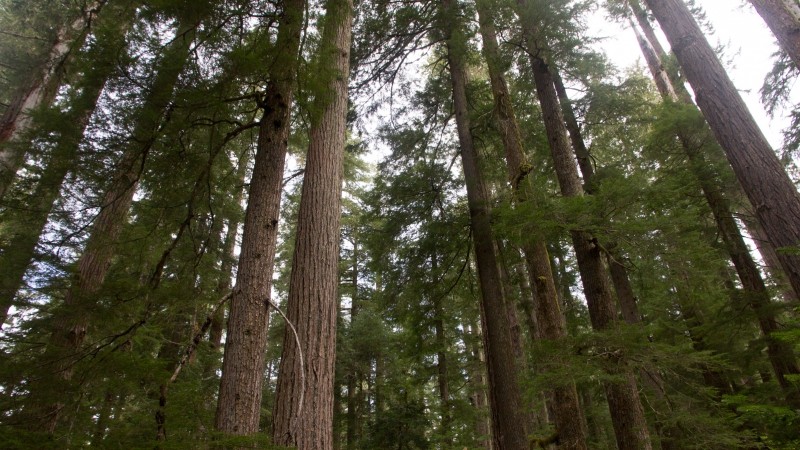 Quite amazing!  Andrews Forest figures significantly in two books gaining Pulitzer Prize praise in 2019.
Richard Power's 502-page book The Overstory: A Novel is winner in the Fiction category.  Despite the standard disclaimer that "this is a work of fiction … any resemblance to actual events, locales, or persons, living or dead, is entirely coincidental," Overstory hints of the people and place of the Andrews Forest. How about "Franklin Experimental Forest," "research teams from Corvallis," "Ghetto in the Meadow," "projects designed to run for two hundred years," "gospel of new forestry," and descriptions of the land itself?
The fiction award statement for Overstory: "An ingeniously structured narrative that branches and canopies like the trees at the core of the story whose wonder and connectivity echo those of the humans living amongst them."
And Elizabeth Rush's Rising: Dispatches from the New American Shore, concerning sea-level rise in this time of global change, is one of three finalists in General Nonfiction.  The chapter "Connecting the Dots" is set in tracking song birds in Andrews Forest, and linked to coastal areas by influences of sea-level rise on their migratory patterns.  Here's a link to "Connecting":  https://liberalarts.oregonstate.edu/sites/liberalarts.oregonstate.edu/files/connecting_the_dots_w_front_matter.pdf 
And to her handwritten dedication in a copy in the library:  https://liberalarts.oregonstate.edu/sites/liberalarts.oregonstate.edu/files/rush-elizabeth-rising-dedication.pdf 
Where there's overstory, there's understory – but, alas, our book Forest Under Story received no Pulitzer attention.
What does it say that the Andrews plays so strongly in both fiction and nonfiction worlds?