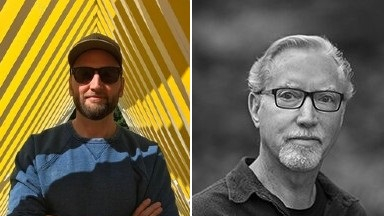 You are invited to join a webinar featuring presentations by two Andrews Forest artists, David Buckley Borden and David Paul Bayles, hosted by Andrews Forest Long-Term Ecological Research Lead Principal Investigator, Michael Paul Nelson.
Register for the Webinar. Wednesday, May 5, 4 p.m. PST. 
While the Andrews Forest is known internationally as a site for leading forest science research, it also hosts a vibrant arts and humanities program. In partnership with the Spring Creek Project, artists, writers, philosophers, and musicians from all over the country are regularly in residence at the forest. This event features short presentations by two Andrews artists, followed by a conversation with Lead PI Nelson and the audience.
About the artists:
David Buckley Borden is an interdisciplinary artist and designer. Using an accessible, often humorous, combination of art and design, he promotes a shared environmental awareness and heightened cultural value of ecology. David is currently a Visiting Professor within the Landscape Architecture Department at the College of Design's School of Architecture and Environment at the University of Oregon. In addition to teaching studio and environmental-communication coursework through the lens of his practice over the next two years, he is spearheading a new design-ecology initiative between the Department and the HJ Andrews Experimental Forest.
Photographer David Paul Bayles focuses on landscapes where the needs of forests and human pursuits often collide, sometimes coexist, and on occasion find harmony. Some of his projects utilize a documentary approach while others use a more contemporary art practice. One of his current projects, "Standing, Still," seeks to show the dignity and strength of the trees burned along the McKenzie River in Oregon's 2020 Holiday Farm Fire.
This event is sponsored by the HJ Andrews Experimental Forest Long-Term Ecological Research Program and the Spring Creek Project.