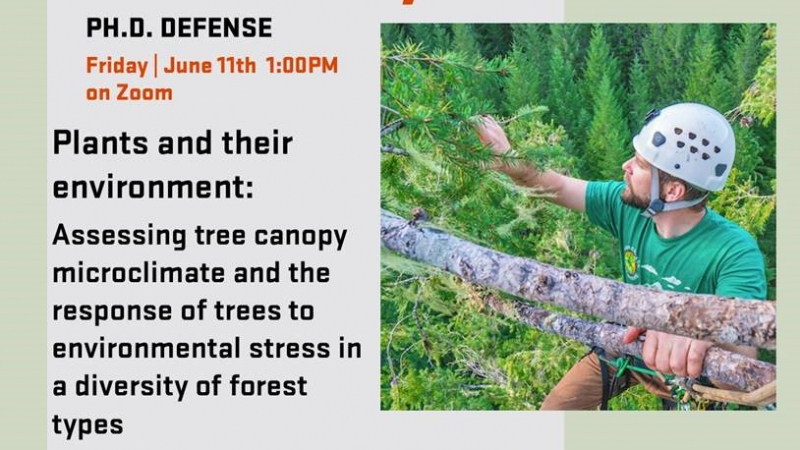 Adam Sibley PhD Defense
Friday, June 11, 1 PM on zoom*
"Plants and their Environment: Assessing tree canopy microclimate and the response of trees to environmental stress in a diversity of forest types"
Adam has done field work, lab work, and computer modeling to assess the physiological response of plants to environmental stressors. His work has focused on the most impactful changes that have been forecasted in each ecosystem where he has worked.  Adam's work on Douglas-fir foliage at the HJ Andrews Experimental Forest in Oregon focuses on dew formation during the dry season -- a potential water subsidy when water stress is at its peak. On the Big Island of Hawai'i, Adam studied the relative capacity of koa and ohia trees to adapt to drought stress. In Los Alamos, New Mexico, he examined adjustment to the photosynthetic machinery of pinon and juniper trees to a hotter baseline existence and to episodic heatwaves. In this defense, Adam will recount how these assessments were made, and how applying the tools he used will help us understand plant responses to environmental changes in the future.
Major professors: Dr. Chris Still and Dr. Rick Meinzer
*email for zoom link.