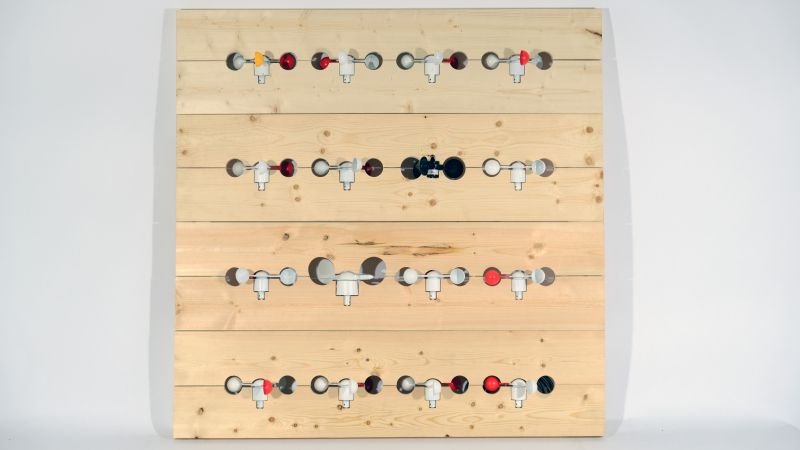 The OSU College of Forestry is hosting an art reception this Friday, April 22, 5PM - 7PM, in the A.A. Red Emmerson Lab.   Anyone is welcome to attend.
Andrews Forest Designer-In-Residence David Buckley Borden will be there to present his piece: "Atmospheric Rivers," wood, anemometers, weather vane, and assorted hardware. Collaborators: William Bonner, David Buckley Borden, and Kennedy Rauh.
"The skies are arguably the largest rivers are in the sky. This piece is a kinetic instrumentation sculpture highlighting the invisible natural processes that structure our daily lives. The air is full of water, primarily in the gaseous state of vapor. This water is in a constant state of flux as it moves throughout the atmosphere in long, narrow rivers from the tropics toward the poles. Through instrumentation, we can observe and predict this global transport system. 
This work is part of a larger ongoing creative exchange between the HJ Andrews Experimental Forest and David Buckley Borden and his interdisciplinary community of designers, artists, and scientists. David (Courtesy Faculty, College of Forestry, Department of Forest Ecosystems and Society) is spearheading a new design-ecology initiative between the Landscape Architecture Department at the University of Oregon and HJ Andrews Experimental Forest at Oregon State University with support from the Ford Family Foundation, Fuller Initiative for Productive Landscapes, Center for Art Research, and the OSU Foundation's Andrews Forest Fund."
Latest news and works: davidbuckleyborden.com